Check your FB Ad accounts, because what happened to this guy is very worrying.
FB to launch WhatsApp payments. How to find the stats of your competitor ads using Info & Ads
Ads Manager hacked
This is the first time we have heard about something like this, but it's pretty alarming nonetheless.
A screenshot was shared with The Crew which showed a guy, Yavaar Nosimohomed, complaining about mysterious and unwanted campaigns appearing in his Ads Manager.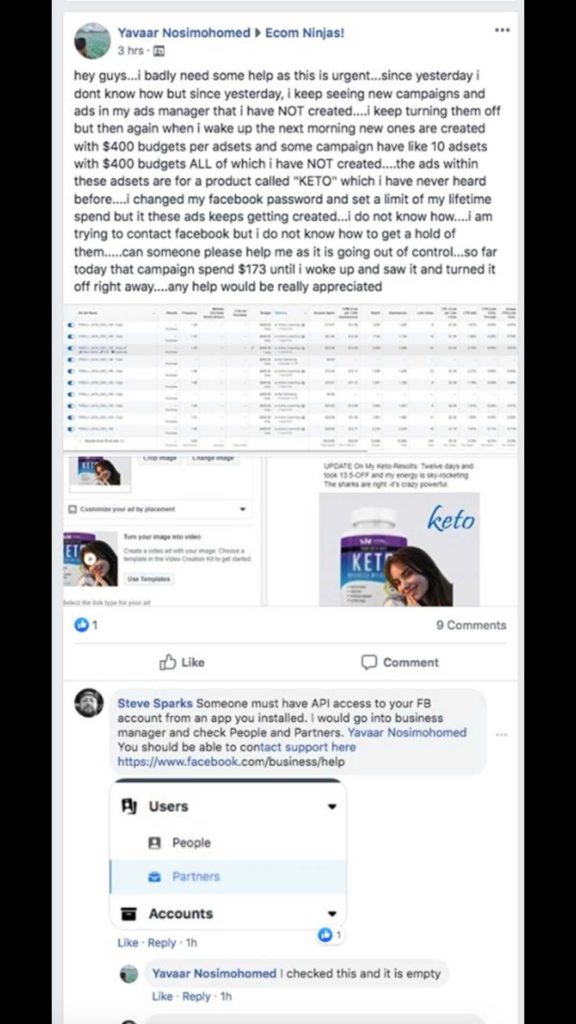 He didn't create those ads, he never launched those campaigns, but suddenly he found them running in his Ads Manager. Spending his hard earned cash.
But the problems don't stop there: Understandably Yavaar keeps turning these campaigns off, but the next morning he finds them up and running once again. Some campaigns have 10 ad sets, and $400 budgets.
At this point, Yavaar tried everything he could to solve the problem:
He changed the passwords and set a limit lifetime budget, but the campaigns keep resurfacing. At the time of writing, he has lost $173 and still hasn't been able to find a solution or reach the FB support team to fix the problem.
In the comments on the post, people are speculating about the possibility that somebody has API access to his FB account via an app he installed.
However, after looking in the Partners section, Yavaar didn't find anything strange.
We have no idea what could have caused this. Do you? You can join the discussion on this post, and hopefully, you can help poor Yavaar out.
Even if you don't have the answers, we should all treat this story as a warning, especially if you have more than one ad account and you don't check them frequently.
There are people out there with bad intentions hacking FB Ad accounts, and you certainly don't want to get caught up in the same situation as Yavaar.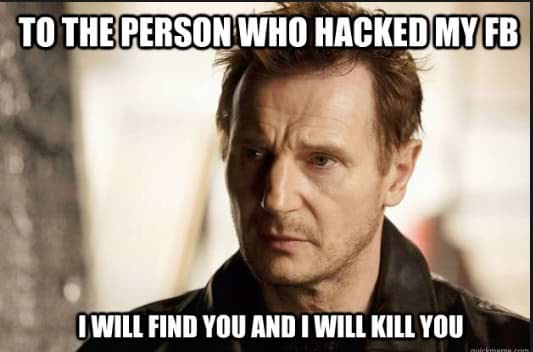 Find your competitor ads' engagement using Info & Ads
Ever since the launch of the "Info & Ads"section for all FB Pages, it has been one of our go-to methods of getting a quick sneak peek into our competitors' creatives.
But we're always on the lookout for more! We want to see the engagement; the social proof on these competitor ads to see how they're performing. That's not possible though, right?
Wrong.
Jaime Harmon came across a simple trick that allows you to see the engagement stats on these ads, and she's been kind enough to share it with the community.
Here are the steps:
Go to a brand page on the Facebook mobile app
Click on the "i" in the upper right corner
Click the second tab for "Active Ads"
Click on the text of the ad, and it will open the real ad
PS: We are aware that many of you have been unable to find the "Info & Ads" section over the last few days. As we discussed yesterday, this is just a bug, probably caused by the rollout of a new update. This should hopefully be fixed within a few days.
Alternatively, you can go to the "Page Transparency" section, where you will find all the Active and Inactive Ads. However, we aren't sure this hack will work there.
We're sure the rest of you are already on your way over to your mobile app to try out these steps. If you've got any questions, Jamie is happy to take them on her post here.
WhatsApp to release mobile payments
Facebook is in the process of hiring hundreds of people at their London office to develop the new WhatsApp mobile payment feature.
As per Mark Zuckerberg's speech at F8, WhatsApp payments will roll out in different countries in 2019, following the initial trial in India.
WhatsApp doesn't allow FB to gather much data due to the end-to-end encryption of messages on the platform. Therefore, mobile payments are a great way for FB to monetize the 1.5B users of the messaging app.
"I believe it should be as easy to send money to someone as it is to send a photo" said Mark Zuckerberg.
Well, this is another arrow shot towards PayPal, Stripe etc. What will they come up with to challenge the rise of Facebook in this sector?
Let's wait and see. First, they will be on the lookout for signs that FB's project has been a success.