If you watched Google Marketing Live (GML) , you'll have seen that there were some massive product announcements around Google Ad platforms.
If you didn't have the chance to catch it live, grab your cuppa coffee and buckle up as we bring you up to speed with everything that was announced in the keynote from Day 1 of GML.
Let's have a look at some of the key updates and how they are going to impact us.
Discovery Ads: Remember the Discover feed? Previously known as Google Now, it appears on the homepage of the Google app for iOS and Android and the Google.com homepage on mobile.
For the 1st time, ads are being introduced to this feed. They fit squarely with the theme of the feed and will run across YouTube home feed, Gmail and the Discover feed.
To reach this new placement, you can create a Discovery campaign, upload ad copy and creative assets and Google will optimize the best performing combinations using machine learning.
It uses consumers' past site visitation, app downloads, videos watched, map searches and much more as its optimization signals. They will work on a CPC basis, in case you were wondering.
Gallery Ads: Visually compelling, carousel format, giant gallery ads right within Google Search. These ad units will appear at the top of the mobile search results page, and will display in the form of a scrollable gallery of four to eight images.
Unfortunately these are not available for Desktop. However, there is a decent chance of videos being included in Gallery ads in the near future.
Again, these are CPC based ads. However, advertisers will pay either when a user clicks through to a landing page or when they swipe to the third image in the sequence. The cost for a click or a swipe will be the same.
Google Shopping: Google is striking back at Amazon with loads of new features and enhancements for shopping. This includes new inventory for Showcase Shopping Ads, hyper-personalization and a frictionless checkout process.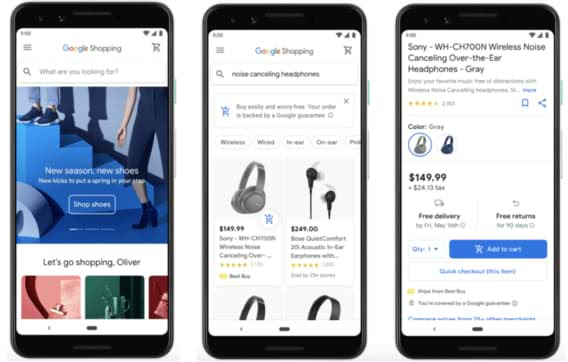 Showcase Shopping ads are being extended to Google Images, Discover feed and YouTube feed, enabling you to deliver discovery-based shopping experiences on a huge variety of high-funnel touchpoints.
For the uninitiated, standard shopping ads take users to a landing page, whereas Showcase Shopping Ads take them to a catalogue of related products within the search results page.
Hyper-personalization in Shopping ads to lure users from Amazon, where no two Shopping home screens will look the same. Users will also be able to buy online or locally. B2B products have been mapped to local retailers, and local product inventory listings are provided via retailer product feeds.
Users will also see shopping recommendations based on their shopping history, search history and lists.
Frictionless checkouts and returns for consumers as Google steps in to mediate between the consumer and retailer, therefore offering a more uniform customer service and returns experience. The "Add to cart" button within Image results will allow shoppers to seamlessly purchase what they want, all backed by a Google guarantee.
So, if users don't get what they were expecting, their order is late, or they have issues getting a refund, they can just turn to Google for help.
Smart bidding updates: More powerful machine learning to find patterns in data and make informed decisions. Three big improvements to smart bidding are:
Campaign-level conversion goals.
Conversion action sets across multiple campaigns.
Seasonality adjustments for upcoming events and holidays.
New, merged audiences: Google is merging custom affinity audiences and custom intent audiences to create custom audiences. Apart from access to audience profiles, a key difference between Google's and Facebook's custom audience is Google's direct access to search data.
Audience Expansion Tool: Google's version of lookalike audiences, used to reach consumers who behave similarly to the people interested in your products and services.
Local campaigns: Automated campaigns that promote your local business stores across Search, Display, Maps, and YouTube. Simply provide your store locations, ad copy, images, a budget and a bid, and Google will optimize ad delivery across its properties to maximize foot traffic to your stores.
Remember, these are just the announcements from day 1. We wonder what's day 2 of GML gonna bring. It's not too late for you to register to watch Day 2 live, but if you're busy don't worry! We'll bring you all the updates right here.